George Newbery (his son, Jorge Newbery was the Argentine aviation pioneer) in his dentist consulting room located in the heart of downtown.
The new immigrants gathered substantial information about the Patagonian south and the Andes zone, where the Newberys owned land near the Nahuel Huapi Lake.

Finally, after visiting the best cities in South America, they decided to settle in Cholila, near the Chilean border. For a moment it seemed that Butch and Sundance – then known as James Ryan and Harry Place – and Ethel, Sundance's sociable and attractive liaison, had decided to make good use of their cattle breeding, horse training and agricultural knowledge to straighten their lives. Ethel, who spoke Spanish, acted as a good source of communication between them and their new neighbors.
Shortly after their arrival, they establish discreet but cordial relationships with the neighbors, who liked these courteous and respectful strangers. The neighbors particularly enjoyed Butch, who seemed to be the life of any party. Even Chubut's governor, Mr. Julio Lezana, happened to be their guest and danced a samba with Ethel. He was convinced she was a beautiful and charming plantation high society "southern belle".
In a letter to a member of the gang left behind in the United States, Butch Cassidy said "... I liked this part of the world so much I think I've settled down for good. I own 300 heads of cattle, 1500 heads of sheep and 28 riding horses. I have 2 helpers, a nice four room house, barns, a stable and a henhouse... the only thing I need is a cook, since I am still unpleasantly single and many times feel lonely..."
It seemed that the vast Patagonia had seduced him, finally humanized his outlaw soul after four years of peaceful existence. But Sundance did not adjust well to that kind of living and was eager to do without it, doubtlessly influenced by Ethel.
He awakened Butch to the adventures they had had in the past, restoring his need to walk down that road once again.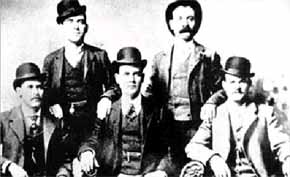 On February 14th, 1905, at 3 p.m., they walked into the Bank of London of Río Gallegos. They were cordially greeted by the Manager and the cashier – the only two people in the room at the time – who seem fully surprised when they see Butch and Sundance draw their Colts. Having their lives threatened, they are forced to open the safe. Both, Butch and Sundance, had carefully planned the holdup. A few days before they had opened an account and made a sizable deposit, securing the banker's trust. The townspeople had named them "weird" gringos, since they frequented the "El Progreso" Club, apparently in the guise of businessmen in search of new lands. They inquired about prices and places to invest. They even went in and out of town galloping at full speed, what was considered a charming gringo "habit" by the neighbors.
It is in this way that they empty the bank's safe and speed off in their horses without raising the slightest doubt in the people walking about town. Although the town is absolutely astonished by the events, the people organize a party to give chase knowing it would be dangerous and time consuming. Meanwhile, Ethel had been waiting for them with fresh horses, giving the outlaws a head start that would be impossible to shorten.
To further their astonishment, the townspeople learn, through the Buenos Aires Federal Police, the true identity of the criminals. Pinkerton Agency had assigned detective