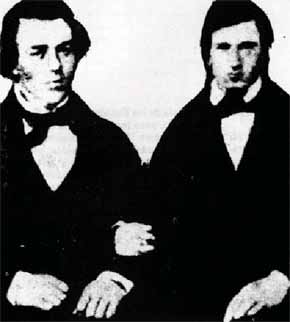 affinity for the sea and sent him to a nautical school in New York.
Three years later, Piedra Buena returned with his pilots license and his diploma for nautical mechanics. In 1859 he moved to Reach island and engages into commerce all the time still sailing. In 1864 the Argentine navy names him honorary captain, and Captain Piedra Buena becomes the first to draw the attention of the Argentine government to the importance of safeguarding the Patagonia. He even traveled to Buenos Aires with a native indian chief, Cacique Casimiro, and presented him to President Bartolome Mitre. Mitre was so impressed with the indian chief that he named Casimiro a Lt. Colonel of the Argentine army.
After coordinating diffrent expeditions in Patagonia, Piedra Buena builds, in 1869, a
Captian William H. Smiley
and yuong Luis Piedra Buena.
refuge for shipwrecked sailors on the Isla de los Estados and another on San Gregorio. Piedra Buena's enterprise in this area rescued many ships and over two hundred people, operations for which he was congratulated and recognized by Great Britain and the German Emperor of the time.
En February of 1873 Piedra Buena lived through an experience that would make him even more famous. Navigating with his ship, the Espora, before the island of the Estados, a storm leaves him and his crew shipwrecked on the island. Undeterred by the adversity that had befallen him and his crew, he undertakes to build right then and there a Cutter. And he manages to do it in just 60 days with only one ax and two saws, and under severe climatic conditions. Two days later, to the joy an relief of all, he arrives to Punta Arenas with his entire crew!
During many years, Piedra Buena continued sailing and collaborating with the main expeditions of the southern seas. He accompanied Perito Moreno and later shared with the Argentine Geographic Institute an exploration that lasted eight months. Even on his last days, literally on his death bed, he instructed how the light house on the Strait of Le Maire should be built.