During the turn of the century the Patagonian west was a hide-out for bandits and outlaws who moved about freely due to the lack of law enforcement, and the isolation and helplessness of the settlers. Moreover, the scarce police in the area was more apt to compete with the outlaws than willing to capture them.
The dangerous Andes chain was not enough of a barrier to discourage the bandits who continuously stole cattle. They knew all the passes and perilous tracks through the mountains and glaciers, and put to use this knowledge to sell the raid's booty in Chile.
The aristocratic Buenos Aires press demanded these bandits be arrested, since they openly endangered the interests of the ranchers and settlers.
In the end, the alarming demands only nurtured the stories on these outlaws, making them famous in other lands, even in the American far west, where the opposite process was taking place. The industrialization, trade and social development were causing the extinction of the gun fighters. America no longer had any tolerance for these criminals who were being fought, expelled or hanged by the Pinkerton agency detectives, hired guns and reward hunters who killed sheltered by the law.
Butch Cassidy - whose real name was Robert Leroy Parker - was one of the most feared and famous outlaws. He was the boss of the "wild gang". As such, he had committed many crimes, and memorable bank and train robberies that provided him thousands of dollars.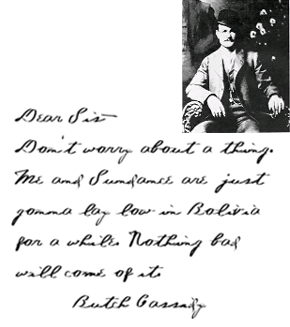 Having brought about the downfall of many sheriffs, he felt his lucky star in the American west was fading and dreamt of repeating his successes miles away in the mysterious, remote and uncertain South America.
The choice of his new destiny was greatly influenced by the news that Patagonia had a scarce and incompetent police force and many cattle ranches owned by Englishmen who were making an easy fortune. Butch and his friend, Harry Longabaugh, a.k.a. "Sundance Kid", financed their trip to Patagonia using funds from their spoils.
On their arrival to Buenos Aires, they checked into the "Hotel Europa" and immediately opened an account in the Bank of London. During their stay, they had the chance to socialize with the American vice-consul